Month of Organic Wines with Sapori D'Italia.
What is the difference between Organic and Regular Wines?
Every country has different regulations on what wines can be labelled Organic.
According to CBI Product Factsheet (for the full report -- click here), wine can be certified organic, if:
its grapes are grown in accordance with organic farming principles
use of grapes which are cultivated without the use of any artificial chemical, such as fungicides, pesticides, herbicides or fertilizers
at the winemaking level, organic techniques are used
Label
Only wines with 100% organic grapes can show EU-Organic-logo. Only the wines with more than 95% organic grapes allowed to use "organic" in its sales description. Wine made with organic grapes and biodynamic wine can have sulfites up to 100 ppm. In comparison, conventional processed wine can have sulfites up to 350 ppm.
You can find all our organic wines -- here.
Biodynamic Winemaking
What is Biodynamic and what makes it different from organic winemaking?
Biodynamic wine production not just using organic farming methods, but also employing soil supplements, following planetal calendar that depends upon astrological configurations, and treating the earth as "a living and receptive organism". 
That how describes the method Franchesco Illy (Podere le Ripi): "What is wonderful about Biodynamics is that the studies made with these techniques have developed procedures, like the 500 or 501 preparations and the use of specific insects or hormones, that allow us to control diseases and parasites, quickly ameliorating the health of soil and plants. Here's something worth mentioning especially during these times of global warming: the biodynamic practices fix up to 4 tons CO2 into the soil every year, and when compared to conventional practices, it is by far much better: those free up to 4 tons of CO2 per year! "
Perlage winery, also following the biodynamic method: "The work of the organic and biodynamic winegrower is to create a relation of collaboration with the living organisms existing in nature and on the vineyard. To manage the complex balance of the vital energies of plants, microorganisms and insects due to obtaining the better grapes in the respect of the environment."
In fact, biodynamic soils that been tested against non-organic soils showed higher disease suppression, a decrease in compaction and added organic materials.
List of biodynamic wineries:
Natural Wines
Nowadays, natural winemaking becoming more and more popular. Even though there is a lot in common with organic farming, there are significant differences between these two.
Natural wines do not have legal rulesNatural wines produced by low intervention winemaking, without adding or subtracting anything in the cellar -- no chemicals, no sulfur, no additives, no filtering, no cultured yeasts. In comparison, organic and biodynamic wines can contain up to 100 ppm.
Compare to Organic Wines, natural wines still do not have a legal definition. However, all-natural and biodynamic wines are organic, but not every organic wine will be biodynamic or natural.
Often as a result of low intervention practices, natural wines can be cloudy and rustic in appearance. The low-intervention process of natural winemaking often leads to wines that contain lower alcohol levels, barely any sulfites (although every wine will always contain a small number of natural sulfites) and that are light and easy to drink.
Natural wineries:
Valfaccenda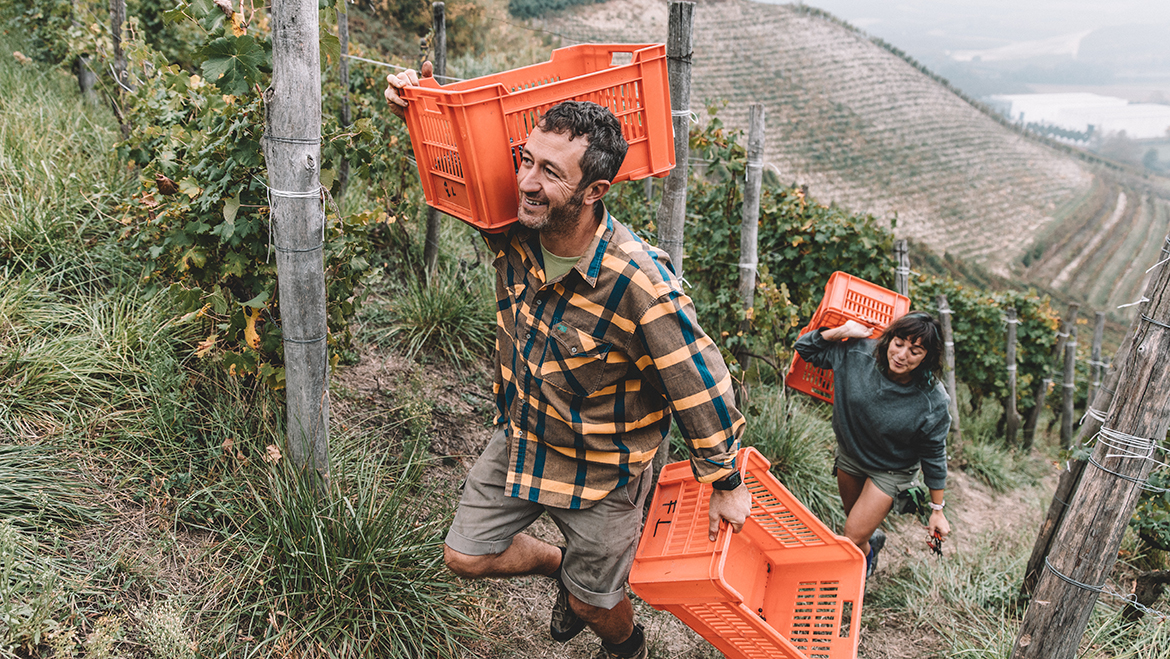 We strongly believe that a wine may exist only as a natural consequence of territory and as a result of a pondered approach both in the vineyard and in the cellar.
Our wines should transfer its origin to the drinker: the scents of the vines and the taste of the grape, the health of the plant and the gurgling of the barrel.
We work in the same way both in the cellar and in the vineyard: our wines are the result of a vinification that do not take away or add anything to the natural transformation of the grapes, since we believe in a conservative enology.
Carolina and Luca, Valfaccenda
I Clivi
"The wines of Clivi come from very old vines, between 60 and 80 years of age."In the search for maximum expression of terroir, the tending techniques we adopt aim to the highest quality: exclusion of fertilization and irrigation, pruningcommensurate with the vegetative capacity of each existing plant, a foliage management that avoids the cropping for a better photosynthesis of the vine, a defense against fungal deseases with the sole use of copper and sulfur in the amounts allowed by Organic regulations, to which we adhere since 2007, and a manual harvest, where the hand-picking of only perfectly ripe grapes in small casks allows us to bring in the cellar only the highest quality fruits, avoiding premature oxidation and fermentation.
Mario Zanusso, I Clivi